Photocentric Studio Support
Download the latest version of Photocentric Studio below
Minimum Computer Requirements
– Operating System Windows 7, 8 or 10
-Minimum 2.0 Ghz processor speed 2 cores. Recommended 4 cores
– GPU capable of opening opengl version 3.0 or higher. E.g Nvidia GEForce 1050 or higher
– .net framework version 4.0
– 64bit system: minimum 2GB of RAM, recommended 4GB
– 32bit system: minimum 1GB of RAM, recommended 2GB
You can run the software using macOS by using a Virtual Workstation with Windows installed on it.
Installing the software
1. Extract the Photocentric Studio zip folder and run the .msi application
Note: If Windows Defender prevents the installation from starting simply click 'More Info' then 'Run Anyway' to begin the installation process.
2.The set up wizard will then load on your screen. To proceed with the installation simply click Next.
3. Now select the location for your installation to be saved to. If you wish to change the location simply click Browse and select a new location of your choice. Once the location has been selected click Next.
4. Once you have selected the location of the installation click Next to begin the installation of the software.
5. Installation has now completed, click Close and you can now open the software. When opening the software you will see a section to enter your license number which can be found on the USB in the envelope of the ancillary box, click on this section and enter your license number provided into the field as shown.
Note: The software comes with a 30 day trial. If you wish to use the trial before activating your license simply click 'Continue Evaluation'.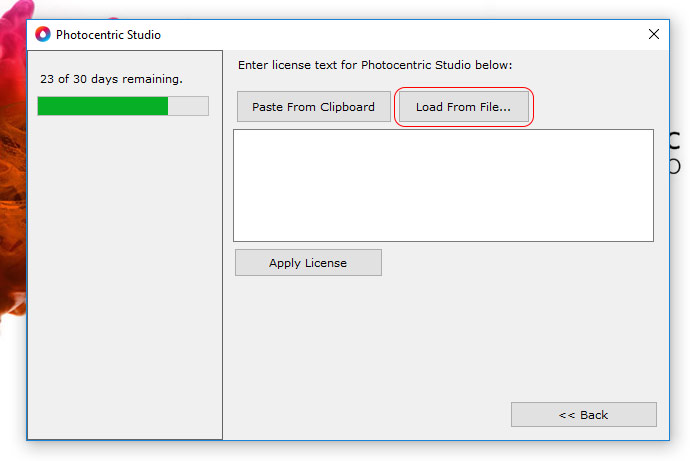 Connecting the Printer
(Only applies to the LC Precision and LC Pro)

1. Open the 'Print Controller' by click on this icon on the far right of the screen.

2. Refresh ports and choose 'com port display' of the printer.
3. Press 'Connect'
Note: If there is a USB Driver error you can download the driver here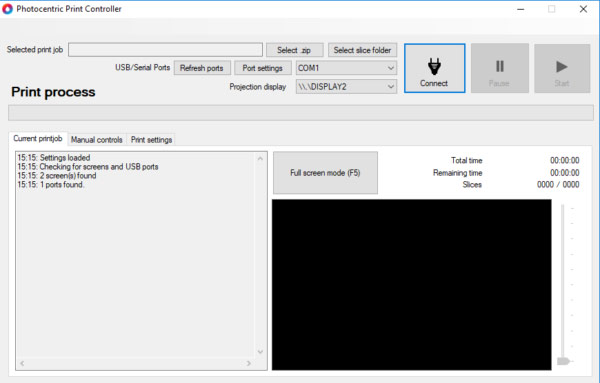 Optimising Graphics Card Settings
Graphics cards are purpose built to handle 3D Graphics and applications, these are things that your CPU can have a hard time with as it was designed to run your operating system first and other functions secondarily. Most Windows computers are going to run Photocentric Studio off of your CPU by default, so its really important that you make some minor changes in your NVIDIA Control Panel to offload Photocentric Studio's 3D graphics processing to your NVIDIA GPU so that there are no worries about slowdowns and crashes.
Follow the steps below to change your graphics card settings:
1) Right click on your desktop and select 'NVIDIA Control Panel'.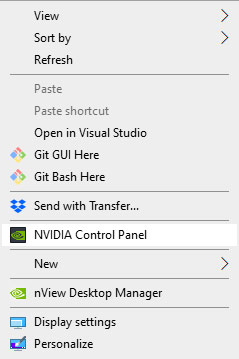 2) In the NVIDIA Control Panel select Manage 3D Settings at the top left. Select 'Program Settings' and add 'Photocentric Studio'. Click Add next to '1. Select a program to customize'.
If Photocentric Studio is not listed, in the 'Select a Program' pop up window select 'Browse'.  When the next window pops up, on the left select the tab that says 'This PC'. From here select your 'Windows (C:)' Drive.
From your C Drive, select Program Files (x86) then scroll to and select Photocentric Studio folder and finally select the 'program .exe' file.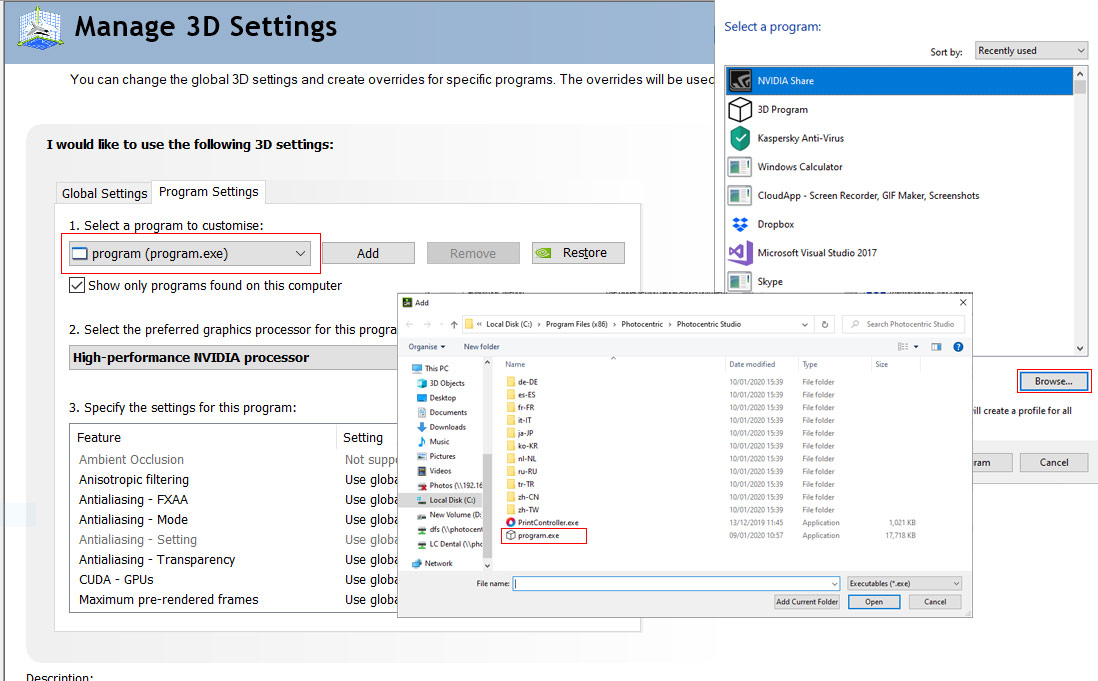 3) Once you've selected Photocentric Studio, in the drop down menu select your graphics card processor in this case, NVIDIA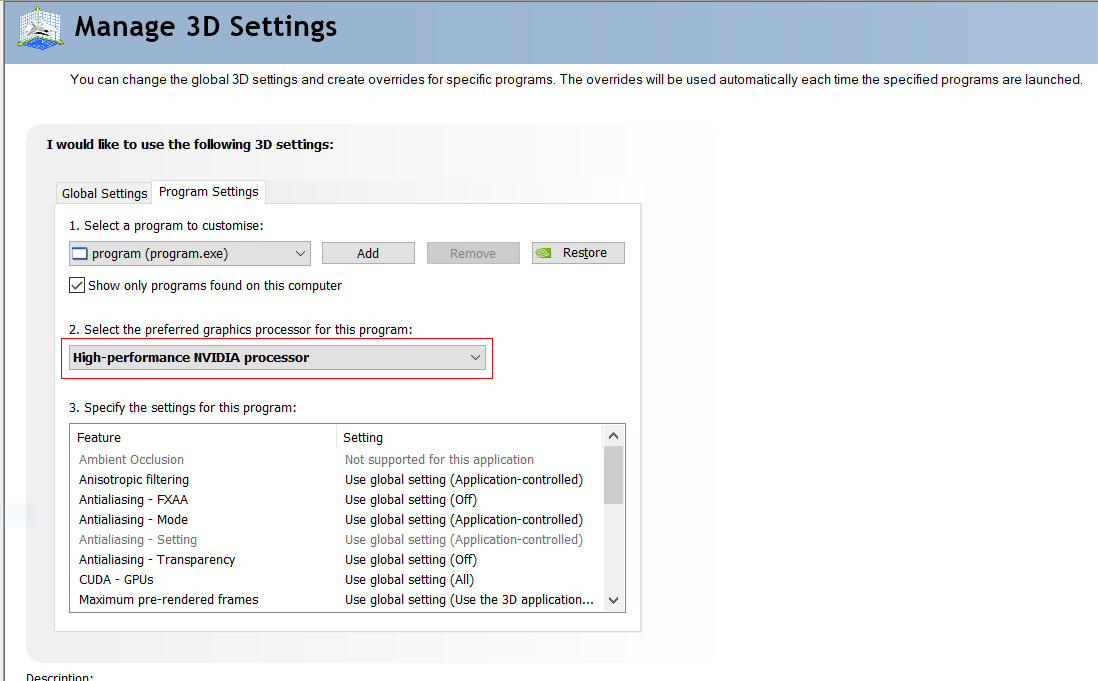 1. Select the appropriate printer and the resin profile, then press 'Apply'.
2. To configure general settings, machine and print settings, press 'File' and then select 'Configuration'. You can change support settings in the dropdown Support Profiles.
3. Click on the folder icon 

to open your file
4. Use the below buttons to change views, copy, move and for scaling.
Note:
For further support on the tools of the software you need to activate the support mode. You can do this by going to 'Help' on the top menu, 'Help documentation, Supporting'.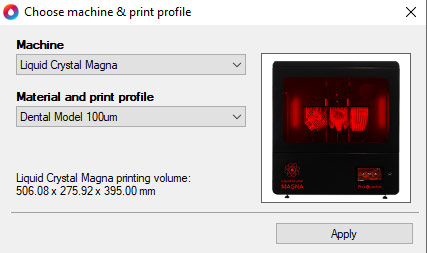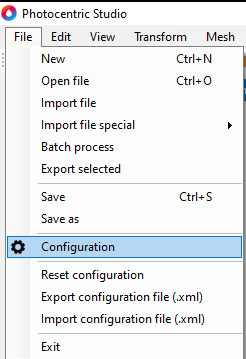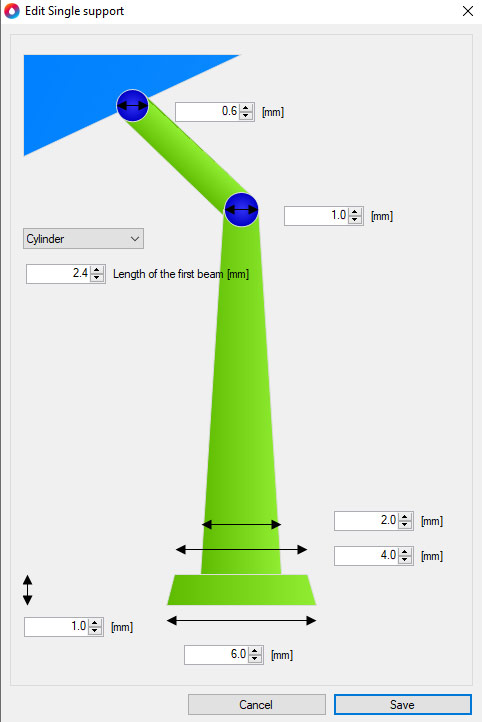 1. Load your file into the Photocentric Studio Software.
2. Click on 'Support Mode' on the right side pane.

3. Click on 'Generate Supports and the supports will be generated automatically for the model.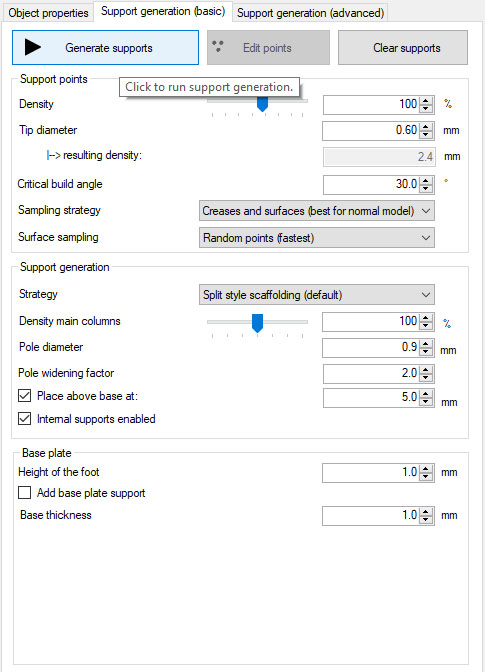 Flattening Supports
You can use these two tools to flatten supports

. This solves the problem of lattice supports becoming slow, this can happen when very detailed supports are used. Typically this would be used once you have finished with an object, allowing you to easily handle 20 objects.
Note: Some stl models have a very shiny surface which is difficult to see when adding supports. To solve this issue you can change the view to 'Filled Frame'.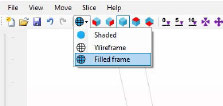 You can adjust or manually add supports to your models using Photocentric Studio. For more information how to do so refer to the support videos below.
Supporting and Slicing Your File with Photocentric Studio – PRO Hard Black 100um
Supporting and Slicing Your File with Photocentric Studio – LC Pro Tough Resin 100um Part 1
Supporting and Slicing Your File with Photocentric Studio – LC HR2 with Flexible Resin
Supporting and Slicing Your File with Photocentric Studio – LC HR2 with Firm Resin 50um
Supporting and Slicing Your File with Photocentric Studio – LC Pro High Tensile White 100um
Supporting and Slicing Your File with Photocentric Studio – LC Pro Tough Resin 100um Part 2
Supporting and Slicing Your File with Photocentric Studio – LC HR2 High Tensile Resin
LC Precision 1.5 – Adding Supports with Photocentric Studio
1. To slice file, use the slice button 

, then choose the location to save file and press OK.
Note: Before slicing you can check your machine and print settings in 'Edit'. In Edit you can also change your file name under Slice folder name. After your settings have been checked you can then begin slicing by pressing 'OK, start slicing'. Print settings in Edit mode give you access to the advanced print settings option. We do not recommend changing anything in the first two tabs. In the tab 'GCode Settings' you have access to the print time and motor parameters which can be modified. In the tab 'GCode Script' you have access to the GCode script modification.
2. Once slicing has finished press Yes to open the printer controller. (Note you only need to open the printer controller if you are using the software with the LC Precision or LC Pro)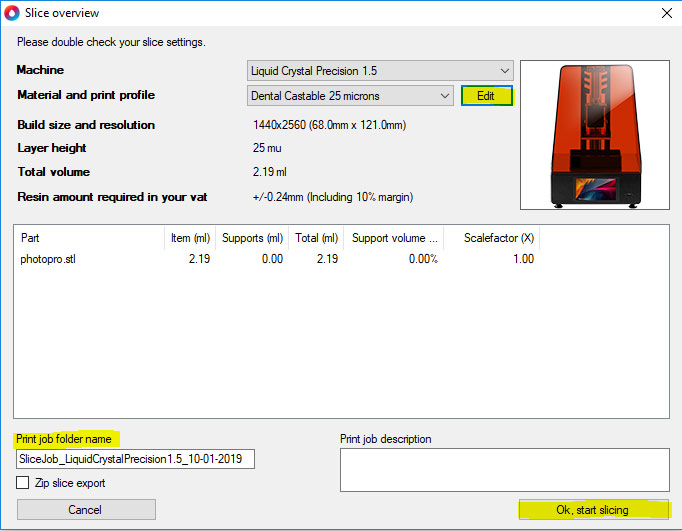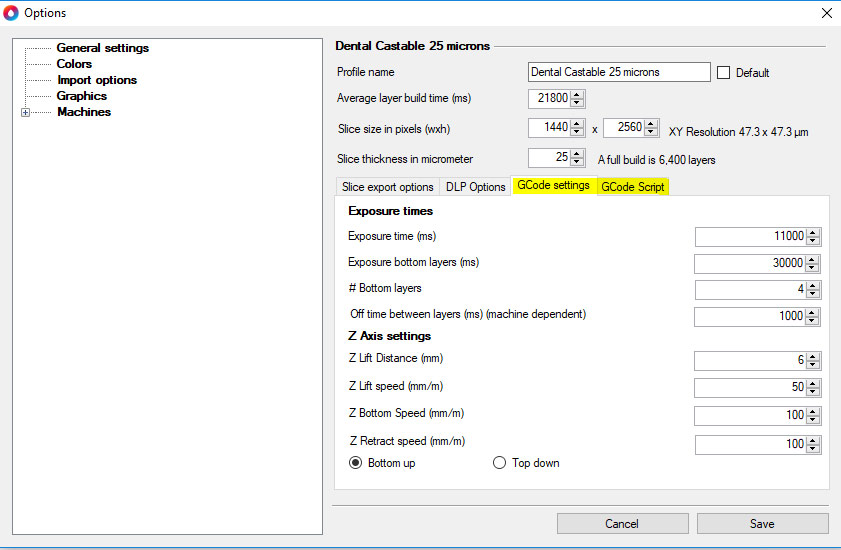 Using The Print Controller
This section only applies if you are using the LC Precision 1 or LC Pro printers without a touch screen interface. For users of the LC Precision 1.5, LC HR1, LC HR2 and LC Magna please follow the instructions in your printer instruction manual – for ease of use this is also listed out below:
1. Open printer controller by clicking on this icon

2. To connect your printer via print controller select COM port and display then use 'Connect' button.
3.  After successful connection select 'Manual Controls' to check the screen and stepper motor are functioning and connection correctly. Select 'Display Grid' to check your printer display, your display should show a grid. To show blank screen and turn off grid select 'Display Blank'.
4. For LC Precision you will need to write in the red circled section command M106 to check your screen and back-light, then press 'Display Grid'. Use command M107 to turn off. For the LC Pro simply press the display grid.
5.  To upload a file please use the 'Select Zip button'. Uploaded file format can be zip, cws or folder with sliced images and g-code.
6.  To begin the print process press the 'Start button'. The software will inform you when the print process has finished.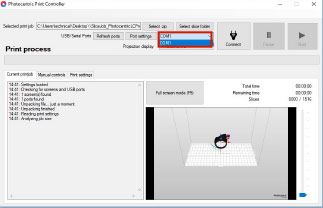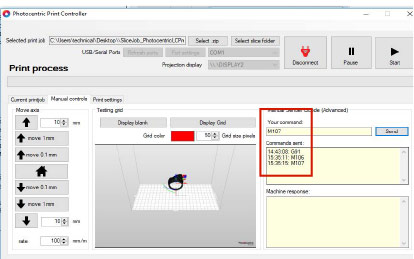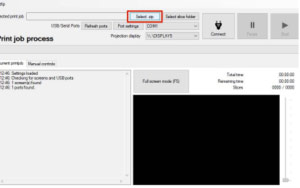 When you see the Blue update alert, please download the latest version of software from the downloads tab on this page. Before doing so remember to uninstall your current software, and then install the new one. If you want to keep your configuration/settings, before uninstalling the software go to the tab file "export configuration xml". If you want to just save the machine profiles please go to the tab configuration machine and export the desired machine profile with the resin and support profiles.
De-activating studio license
If you need to transfer/remove a license from a computer, this can be done by the following instructions:
1.       Open your Photocentric Studio.
2.       Go to the 'Help' button at the top of the screen.
3.       Select remove license.
4.       You will have a pop up that asks if you are sure. Click 'Yes'.
5.       Your license has now been removed from this particular software.
This will automatically remove the license from your PC. Please make sure you have this license copied so you can use with another software.
If you lose your License Key you will need to purchase a Photocentric Studio License Key Reset from our shop
Software Performance
If you are experiencing issues with speed on previous Windows versions than Windows 10 then please  run the software in compatibility mode and adjust the DPI settings. Refer to the image below.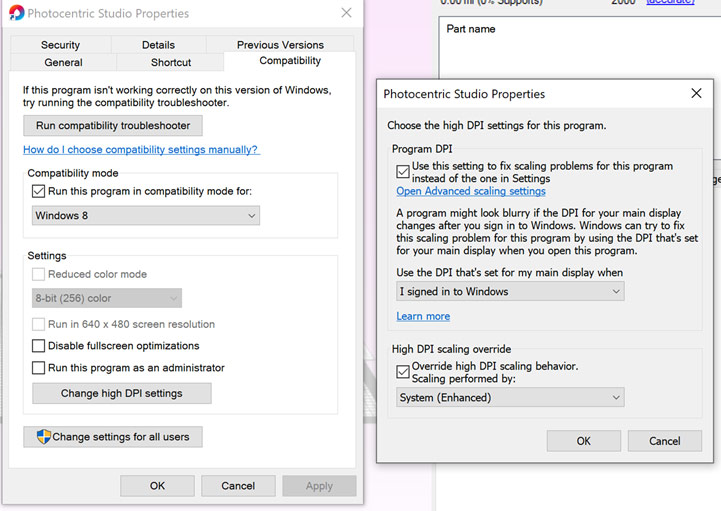 Shift+mouse translation
Shift+mouse rotation      
Arrow keys                
Shift+arrow keys          
Ctrl+C                   
Ctrl+V                   
Delete                   
Enter                  
ESC                      
Ctrl+Z               
Ctrl+Y                   
Gridsnap on when moving an object
Rotation snap on (default 45 degrees)
Move object in X (left/right) and Y (top/down)
Rotate object in XY plane
Copy
Paste
Delete part (or entire selected support)
Confirm current open command (i.e. place support)
Cancel current open command
Undo
Redo
New file
Open file
Save file
Ctrl+T
Ctrl+B
Ctrl+P
Ctrl+L
Ctrl+F
F5
F6
F7
F8
PgUP
PgDN
Top view
Bottom view
Perspective view
Left view
Front view
Shaded view
Wireframe view
Filled frame view
Transparent view
1st slice view
Turn off slice view
Click
Click+Shift
Click+Ctrl
Drag mouse
Drag mouse + shift
Ctrl+A
Ctrl+D
Select object
Add object to selection (+1)
Remove object from selection (-1)
Select 1 or multiple parts
Select 1 or multiple supports (but no part itself)
Select all parts
Deselect all parts
Click
Click + shift
Drag mouse
Drag mouse + shift
Click existing
Delete
Add a single triangle
Add multiple triangles (without being asked to select the entire critical)
Add multiple triangles
Select multiple added triangles (turn yellow)
Select single triangles
Deletes selected triangles
Delete
Ctrl+Delete
Ctrl+Q
Ctrl+W
Ctrl+E
Delete selected parts only.
Delete entire selected support (also if just selecting 1 sub part)
Toggle to single support mode
Toggle line view mode
Toggle point view mode