Photocentric Studio Support
Download the latest version of Photocentric Studio below
Minimum Computer Requirements
– Operating System Windows 7, 8 or 10
-Minimum 2.0 Ghz processor speed 2 cores. Recommended 4 cores
– GPU capable of opening opengl version 3.0 or higher. E.g Nvidia GEForce 1050 or higher
– .net framework version 4.0
– 64bit system: minimum 2GB of RAM, recommended 4GB
– 32bit system: minimum 1GB of RAM, recommended 2GB
You can run the software using macOS by using a Virtual Workstation with Windows installed on it.
Installing the software
1. Extract the Photocentric Studio zip folder and run the .msi application
Note: If Windows Defender prevents the installation from starting simply click 'More Info' then 'Run Anyway' to begin the installation process.
2.The set up wizard will then load on your screen. To proceed with the installation simply click Next.
3. Now select the location for your installation to be saved to. If you wish to change the location simply click Browse and select a new location of your choice. Once the location has been selected click Next.
4. Once you have selected the location of the installation click Next to begin the installation of the software.
5. Installation has now completed, click Close and you can now open the software. When opening the software you will see a section to enter your license number which can be found on the USB in the envelope of the ancillary box, click on this section and enter your license number provided into the field as shown.
Note: The software comes with a 30 day trial. If you wish to use the trial before activating your license simply click 'Continue Evaluation'.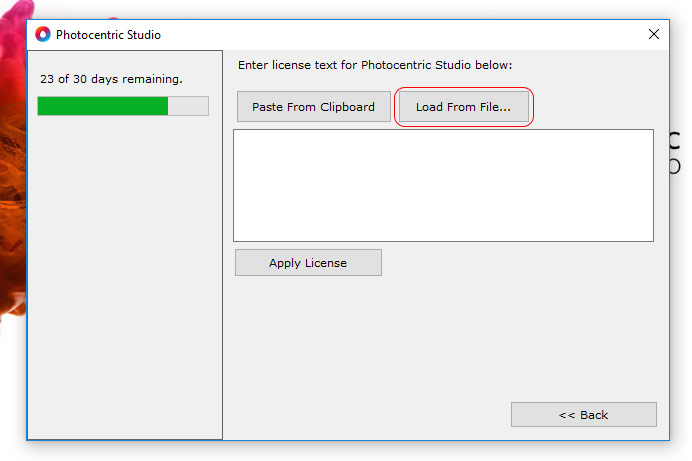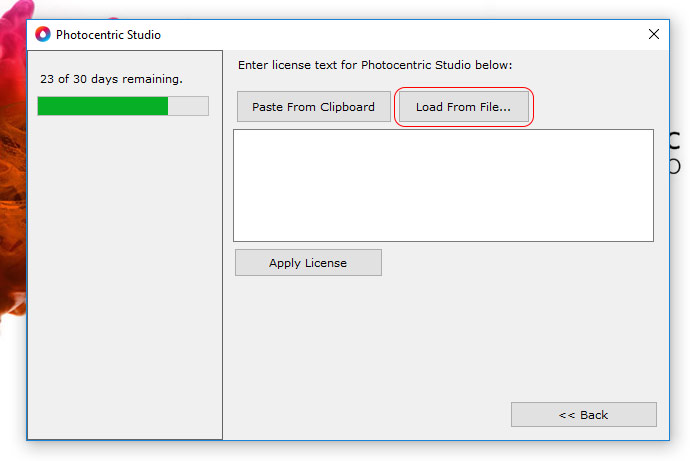 Optimising Graphics Card Settings
Graphics cards are purpose built to handle 3D Graphics and applications, these are things that your CPU can have a hard time with as it was designed to run your operating system first and other functions secondarily. Most Windows computers are going to run Photocentric Studio off of your CPU by default, so its really important that you make some minor changes in your NVIDIA Control Panel to offload Photocentric Studio's 3D graphics processing to your NVIDIA GPU so that there are no worries about slowdowns and crashes.
Follow the steps below to change your graphics card settings:
1) Right click on your desktop and select 'NVIDIA Control Panel'.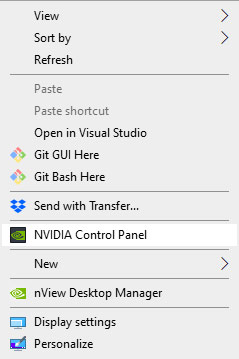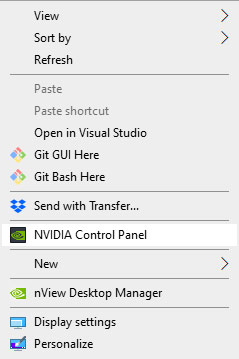 2) In the NVIDIA Control Panel select Manage 3D Settings at the top left. Select 'Program Settings' and add 'Photocentric Studio'. Click Add next to '1. Select a program to customize'.
If Photocentric Studio is not listed, in the 'Select a Program' pop up window select 'Browse'.  When the next window pops up, on the left select the tab that says 'This PC'. From here select your 'Windows (C:)' Drive.
From your C Drive, select Program Files (x86) then scroll to and select Photocentric Studio folder and finally select the 'program .exe' file.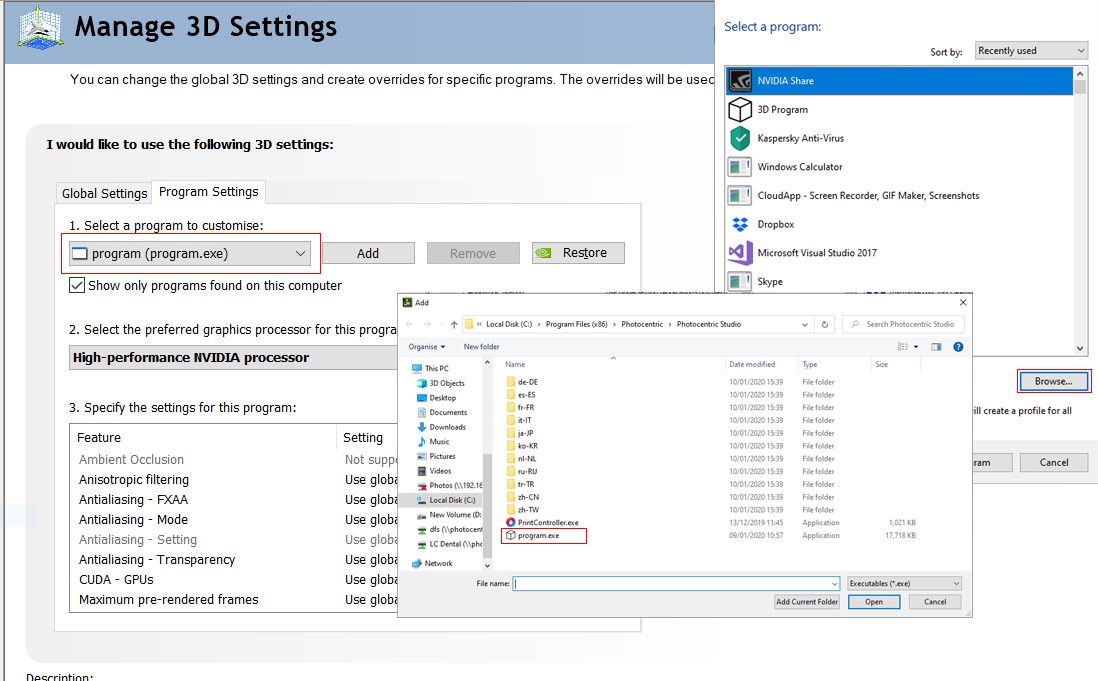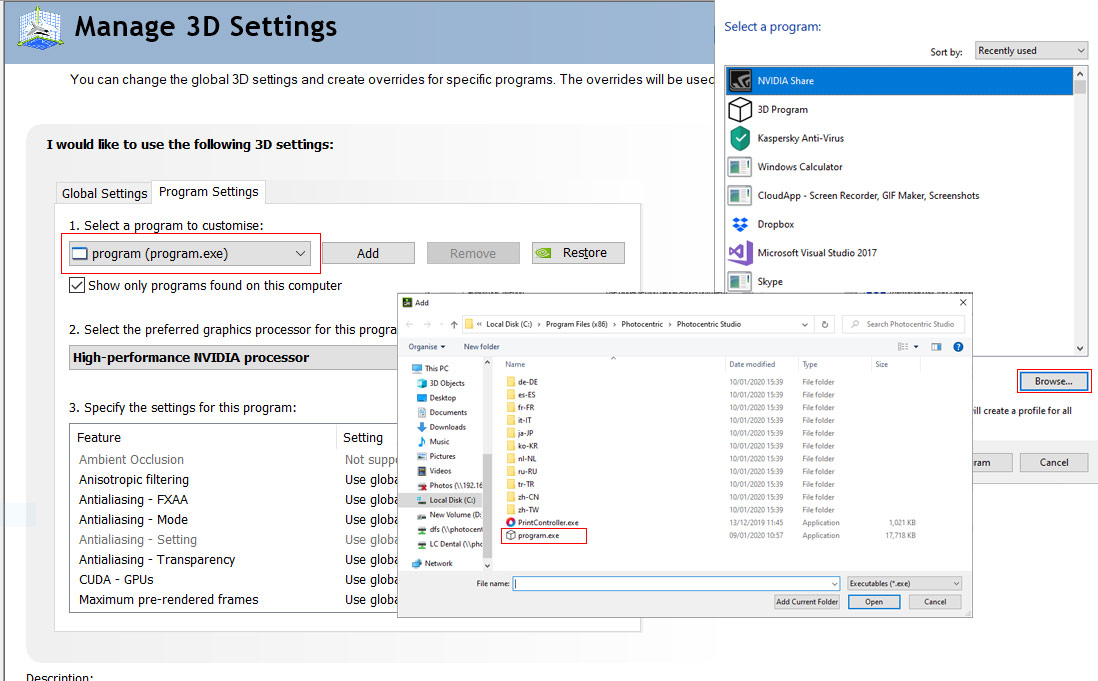 3) Once you've selected Photocentric Studio, in the drop down menu select your graphics card processor in this case, NVIDIA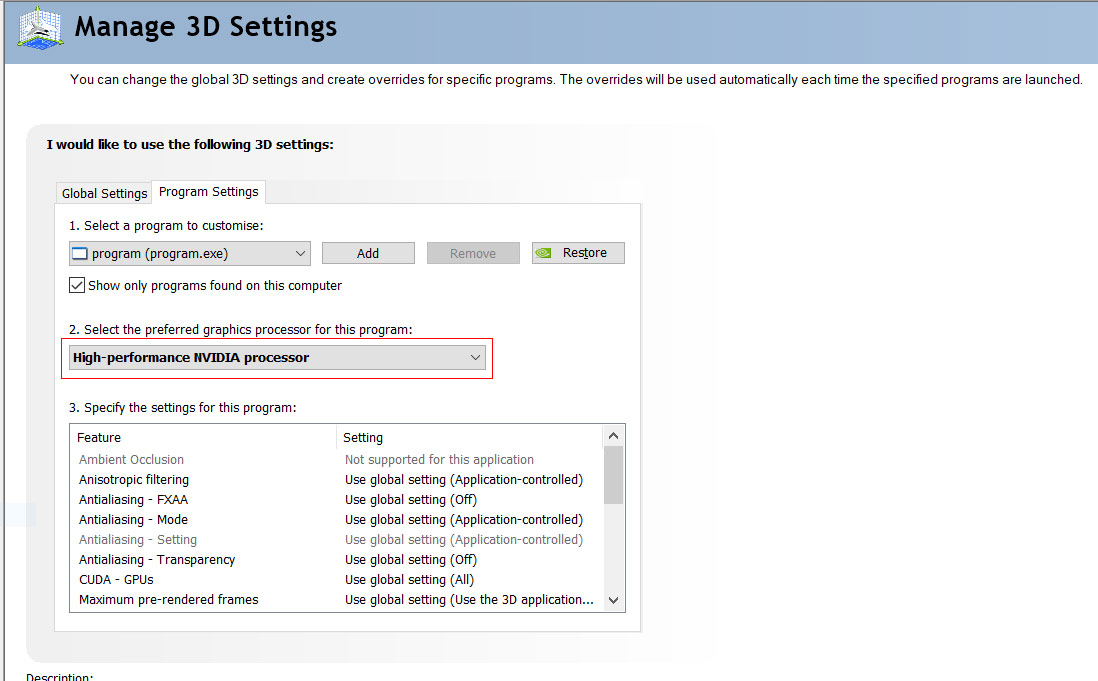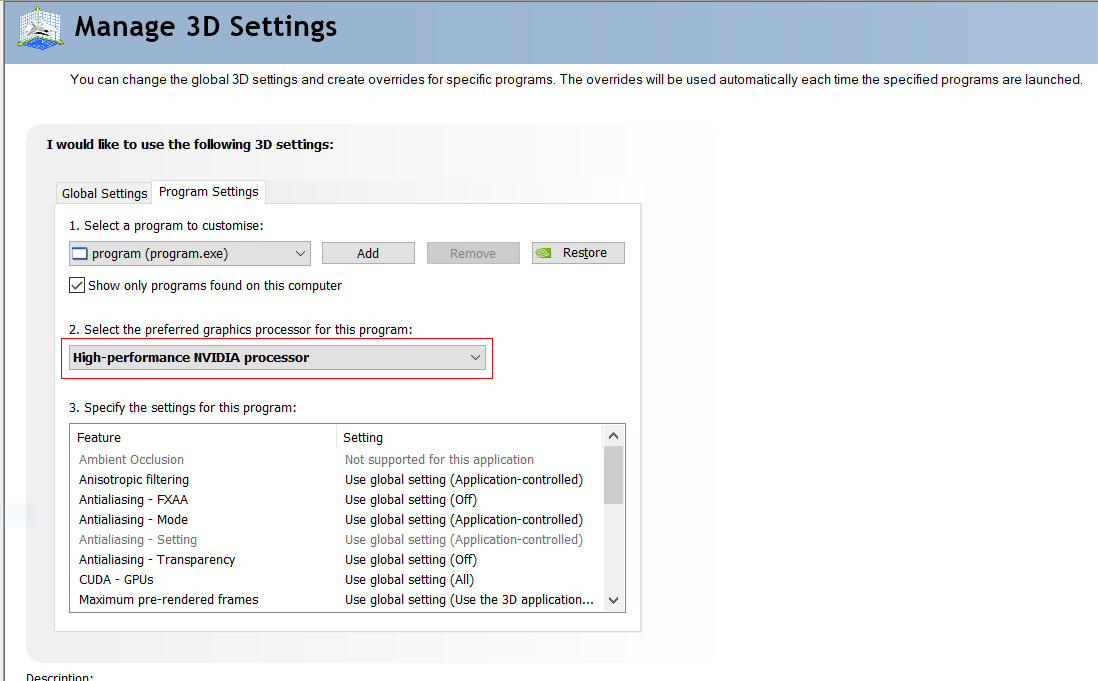 File Opening and Batch Processing
Difference between New/Import/Open
 'New' will open a blank file. It will first check if you would like to save previous work.
 'Open' will open any selected file into a new workspace. It will first check if you would like to save your previous work. This is like 'New file'. 
 'Import' will import any file into the existing workspace.
Supported File Formats (opening/importing)
stl – (Stereolithography file) The standard file for 3d printing. Binary stl files open significantly faster due to faster reading.
stl compact (stlc)- a custom binary format that is the most efficient way of storing geometry in terms of storage space. Can be used when transferring files very large files to another pc.
ply (Polygon file format) – Used in some 3d scanners & in the dental industry.
amf (Additive manufacturing file format) – A zipped xml format.
slc (Slice file) – A binary file consisting of 2D Curves at different Z levels. Can be converted to PNG slices after import or alternatively it can be converted to a mesh.
obj (Wave front .obj file) – Used in the animation industry. When importing them, the program only reads the triangles. Other polygons are converted back to 1 or multiple triangles. Textures are ignored.
p3d (The program's own project files) – project files are files which contain objects and supports created by the software. You can use this to open previous print jobs to edit/process them again.
svg (Standard vector graphics). Svg is an ascii file format to store coordinates. It might be handy to view what you are exporting. Some machines require Svg files. This can be either all layers in 1 file or one file per layer. You can import 1 file at a time.
Some files may need to be imported in a particular way. In order to keep normal imports simple, we've separated these out in a special import menu. Currently, the following special imports are available:
Materialise magics thin supports: this import option allows you to import Materialise Magics generated support structures that have 0 thickness. The program will ask you to give a value and will then generate a thickness for the support parts.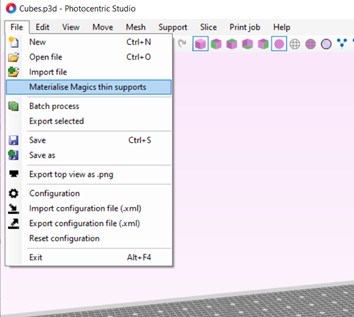 The batch processor gives you the ability to prepare multiple files for printing at the same time. It gives you the following options:
Copy amount: if different to 1, the pa