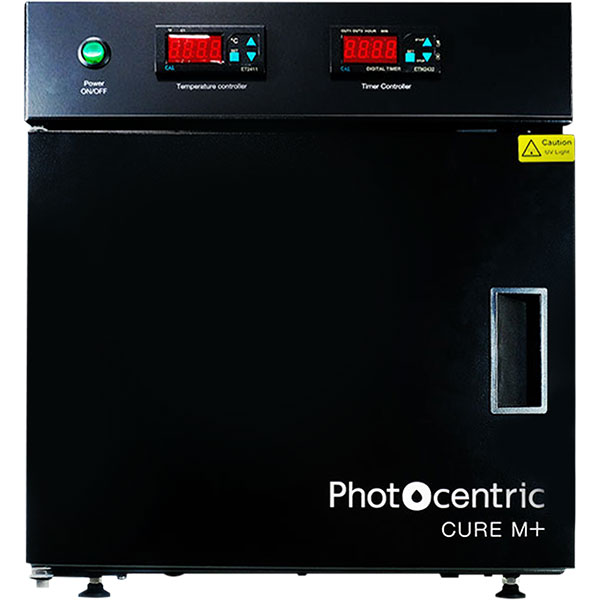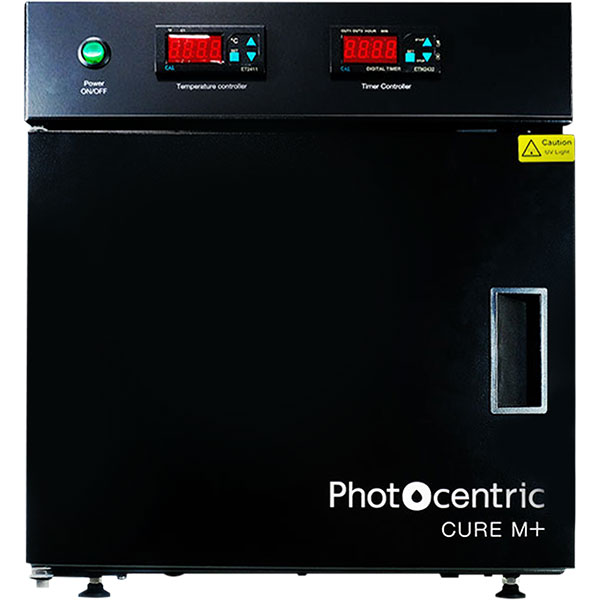 It is best to have 3 people for the opening and removing from the box.
Open the packaging carefully. Do not use a sharp blade as you may damage the unit.
Have 2 people reach into the box and hold the unit but the bottom, then the third can hold the box in place while the unit is being lifted out.
Place the unit on a secure and level surface. If this is the final placement of the unit make sure you have adhered to the spacing suggested in the Installation Guide. This is essential to allow proper ventilation and heat dissapation.
Now plug the power cord into the unit, then into the mains socket while the socket is switched off. Once the cord is in securely then turn the mains power on. Note: Always check that the power cord is undamaged
To switch the unit on, once it is plugged in, press the green rocker switch. You will see the control panels light up.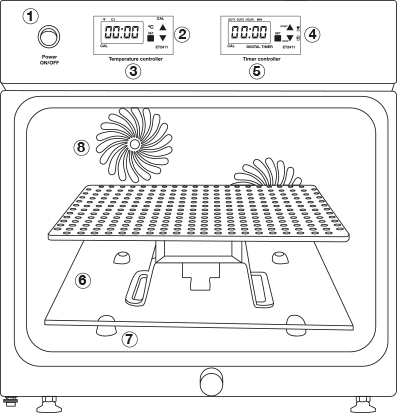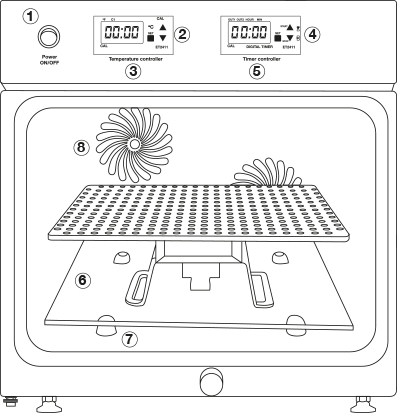 Figure 1: Cure M+ General layout.
1. On Off switch
2. Temperature adjustment
3. Temperature display
4. Time adjustment
5. Time display
6. Glass platform
7. Platform stands
8. Internal vents
9. UV Light
When choosing a suitable location for your Photocentric Cure M+, allow plenty of space for ventilation and heat dissipation, as the Cure M+ can reach up to 149°F inside (maximum set temperature is 143.6°F, but natural fluctuations to maintain temp can reach 149°F).  All diagrams have dimensions in millimetres unless otherwise stated. Consider the ergonomics of operating the cure unit.


Figure 2: Cure M+ space requirements, front view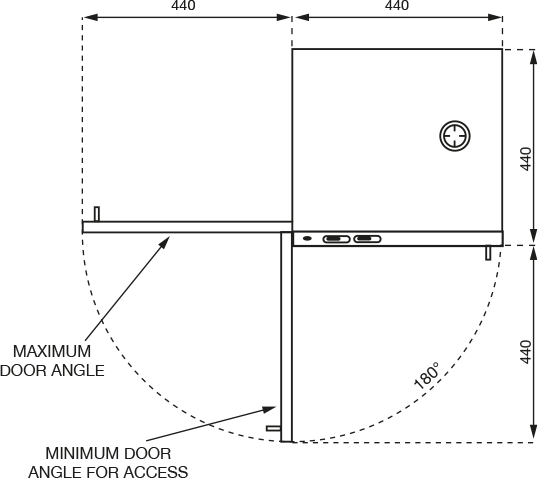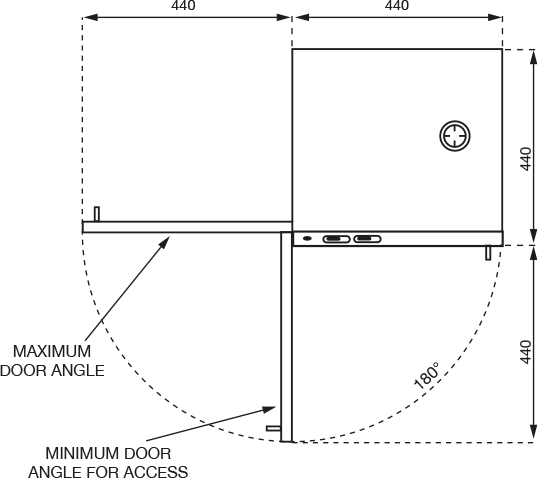 Figure 3: Cure M+ space requirements, plan view.
To set up your cure cycle first press 'Set' and use the up arrow to set the temperature to the maximum of 143.6°
Once you have reached the maximum temp press 'Set' again.
Press the 'Set' button on the time controller and set the time to the maximum of 2 hours.
Then press the up arrow to start the curing. When this has started you will see the colon in the time panel move to the top.


Figure 4: Temp and Time control panel.
If the light does not come on check the following:
The door is firmly shut.
The upward facing ventilation is not covered (this can lead to overheating and shut off the system).
The unit is plugged in securely.
If the heater, lights, or green switch do not come on please check the fuses of the machine.
Tech Specs & Power Requirements
Height (390mm)
Width (440mm)
Depth (440mm)
Weight (44 lbs)
Power Supply (22-240 VAC)
Power Consumption (4-9A)