Minimum Computer Requirements
– Operating System Windows 7, 8 or 10
-Minimum 2.0 Ghz processor speed 2 cores. Recommended 4 cores
– GPU capable of opening opengl version 3.0 or higher. E.g Nvidia GEForce 1050 or higher
– .net framework version 4.0
– 64bit system: minimum 2GB of RAM, recommended 4GB
– 32bit system: minimum 1GB of RAM, recommended 2GB
You can run the software using macOS by using a Virtual Workstation with Windows installed on it.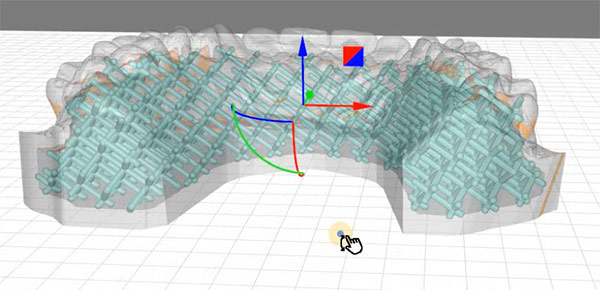 Import and export in different formats including stl, amf and obj.
Photocentric Studio 3D printer software Project files p3d, allow customers to reuse models and retain settings between sessions.
Presonalise your Studio user Interface.
Undo and redo facility assists editing.

Photocentric & CoreTechnologie – A Gamechanger for Additive Manufacturing
Photocentric and CoreTechnologie, a global leader in CAD solutions, have partnered to deliver an innovative Additive Manufacturing software suite exclusively for LC Magna users – Photocentric Additive.
The software enables LC Magna customers to transform their part design and production providing a multitude of additional design customisation options. Photocentric Additive is an innovative, powerful and feature-rich additive manufacturing software package, allowing users to upload and apply custom logos, textures (or choose from 5,000 pre-defined textures) and customer-ready finishes at speed. Photocentric Additive will also orient, add print supports and slice all common CAD formats and STL models with ease.
The software is ideal for use in a huge array of applications, including automotive interiors and parts, sports goods, eyewear, footwear, consumer goods and more.  Photocentric Additive supports lattice structures and creates new possibilities for the design community with a host of customisation options. A newly designed module – developed specifically for Photocentric with the SLA process in mind – creates support structures which enables a high level of automation.
If you would like more information about Photocentric Additive please contact us below.