Harnessing the power of 3D printing to improve automation
The Part Flipper- using LC Magna to deliver automated production.
Having lots of our own printers and resins available at all times ensures we naturally look to 3D printing to solve problems ourselves as well as for customers. Recently we created an elegant example of how to use our printers to increase the productivity of the 3D printed part production line itself!
When we were confronted with having to deliver 50,000 face shields a day, we calculated that this meant we needed to get two post cure conveyors operational. The problem was that the parts needed to be turned over to allow the light to harden both sides. Initially we did this by employing an operator full-time to pick each part up and turn them over, but simultaneously we designed and prototyped an automatic flipping device.
Just 3 weeks after the initial idea was floated, a customised automatic 'shield flipper' was implemented on the line improving reliability and removing an operator from the process. This simple and ingenious item is a custom 3D printed part, designed and printed entirely in-house using our Liquid Crystal Magna's.
The flipper looks impressive, but its productivity improvement is even more impressive, having paid for itself in labour reduction in one day. Manufacturing is entering a new era; the demand for faster and more accurate production capabilities requires faster response times and functional materials.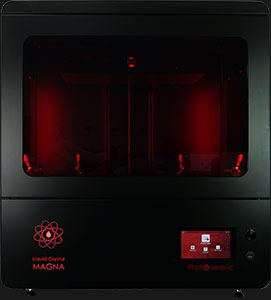 Printer Specifications
Build Volume- 20.1 x 11 x 13.8in
Print Speed- 10.52″ per hour at 100µm
LCD Screen- 23.6″, 4K- 3840 X 2160px
Layer Thickness-25,50,100,150 & 200µm
Talk to us today about your requirements