Photocentric Air Wash L + LC Opus Bracket
The new Air Wash L is designed to operate twenty-four-hours a day, and is ideal for supporting large-scale production. Its air agitation system cleans rapidly, with efficient and meticulous results when used in collaboration with our Photocentric resin cleaner. Air Wash L optimizes post-processing for LC Opus, as the bespoke design accommodates an two entire platforms and prints to sit comfortably inside.


Increase throughput with 24/7 operation
Air Wash L is designed to run 24/7 in operation and does not require cool down periods in between


Designed to hold the entire LC Magna platform and full X Y and Z build volume

Bubbles create direct contact with prints providing more thorough clean on complex parts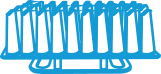 Washes both printed parts and platform together
Printer Compatibility:
LC Magna
Dimensions:
990.5 (H) x 400 (D) x 620 (W) mm
38.9 (H) x 15.7 (D) x 24.4 (W) in
Capacity:
90 litre (20 gallons)
Power Supply:
30 x 40kHz t 110v or 220v
Air Flow:
40 lt per minute @140 Mbar (2.3 psi)
Weight:
56 kgs (124 lbs)
Bracket to support platform included with the unit.
3 months Warranty
Photocentric Resin cleaner only to be used with this product.