Reacting quickly, adapting rapidly.
Overnight, lives were drastically changed by the COVID-19 pandemic. Hospitals around the globe struggled with supply chain disruptions and healthcare providers were in desperate need of Protective Personal Equipment to keep their front-line workers safe.
As a manufacturer and innovator of advanced 3D printing technology, we had the ability to rapidly adapt and scale up to help meet these critical shortfalls.
We transformed our business overnight. We de-prioritised existing orders and mobilized everyone to create a new manufacturing operation capable of making large quantities of plastic parts.
We are now building a massive print farm of large-format LC Magna printers, manufacturing tens of thousands of PPE parts every day.
We have become a successful mass manufacturer of plastic items for the first time.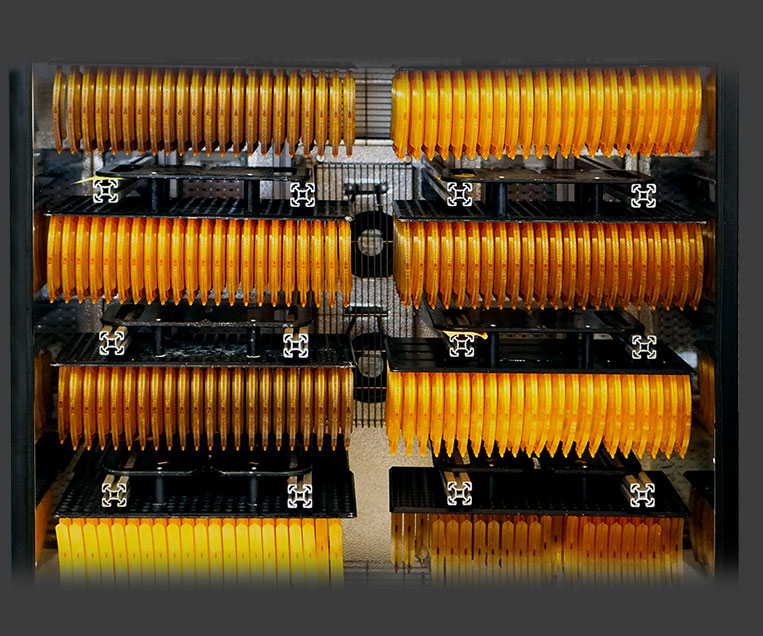 Got the prints and they work very well. They fit neatly into one another and they also form an airtight seal with the mask. The service was fast and the product was just as we expected, response from you guys was fast and answered my questions before the order went in, and your price was very competitive.
Liquid Crystal Magna prints a full bed of 132 face shield separators in 1 hour 50 mins.
Printed in Magna Translucent in 350my layer thickness.
452 layers at 12 secs per layer: Exposure 4 secs + Movement 1 secs + Dwell 7 secs (plus base layers).
15.8cm (6 ¼ ") printed z-height in 110 mins.
14g per part = 1.85kg of objects created on bed.
Number printed per day = 1728 (24 hrs)
Liquid Crystal Magna creating functional custom parts at 17g every minute.