We ship our first Liquid Crystal Maximus printer, the largest format LCD printer ever sold, based on a 40" LCD screen. It has the potential to replace the use of large format laser printers, being much more productive and lower cost. Photocentric is awarded a UK Faraday grant to develop novel 3D printed solid state batteries and is awarded a TDAP grant to accelerate our novel printing process for printing lithium ion batteries. The Liquid Crystal Magna, Dental and Pro are all listed in Aniwaa's best large volume 3D resin printers. Liquid Crystal Magna is selected by many of the world's leading dental labs as being best in class in the manufacture of models for aligners.  We create a separate business, Photocentric 3D Inc to serve the 3D printing market in America with dedicated staff. Photocentric partners with the MTC to jointly develop our disruptive 3D printing process for making industrial ceramics. Photocentric is awarded a £1.875m grant from the Combined Peterborough and Cambridgeshire Authorities to contribute to the construction of a new 45,000 sqft 3D printing Centre of Excellence in Peterborough.

We partner with BASF and start the journey together to enable custom mass manufacture by offering functional materials with fully costed pricing models to allow manufacturers to consider using 3D printed parts for manufacture. We jointly develop a combined solution of software, hardware and chemistry to overcome the obstacles that prevent its adoption for industrial use, being high cost, low volume and low functionality. We complete development of the range of photopolymers for 3D printing. The Liquid Crystal Precision 1.5 is listed in Aniwaa's best resin 3D printers and wins 'Best Personal Printer of the Year' at the 3D Printing Industry Awards. Photocentric launches our largest printer to date, the Liquid Crystal Magna benefitting form a 24" LCD screen to expose over. It enables large component prototyping and the custom mass manufacture of small items such as dental models. After nearly two years development we create dense alumina, silica and stainless steel parts for the first time using our Liquid Crystal Ceramic printer. We file patents on using LCD screens with two distinct light sources, the manufacture of direct printed aligners, printing using viscous particle loaded slurries, printing in space and printing without force at the build interface. We now employ over 30 research scientists working in 3D printing.

Photocentric is awarded the Queen's Award for Enterprise: International Trade in recognition of our substantial 3-year growth in overseas sales.  We exhibit for the first time at Formnext and come back invigorated by the vision we have for LCD screens in 3D printing. We launch our new Liquid Crystal Precision 1.5 and Liquid Crystal HR 2 3D printers at Rapid 2018 in Texas. The LC Precision is shortlisted for the Personal Printer of the Year award in the 3D Printing Industry Awards. Photocentric wins the Manufacturing Innovation Award at Made in the Central & East England Awards. We launch our new Photocentric Studio 3D printer software. We are selected as a Commonwealth First Export Champion. We file patents on the use of multiple LCD screens in a single array, the enabling of peeling to reduce force, increasing resolution by controlling the sub-pixels separately and mechanisms to automate the printing process.

We launch the Liquid Crystal Precision 1 printer, our highest resolution printer yet, using a 5.5" LCD screen.  Photocentric is awarded a UK Innovate grant to create Colossus the largest LCD 3D printer ever made, equipped with a 75" screen. We partner with 3DGBIRE to provide greater service to industrial users. We are also awarded an Innovate grant to create a novel metal and ceramic 3D printer using LCD screens. Photocentric win awards for Innovation, R&D and the overall best business award. We launch the Liquid Crystal HR 3D printer, an upgraded version of the Liquid Crystal 10 in every respect. Other 5.5" LCD screen 3D printer manufacturers now enter the market, but all their screens all burn out quickly. The 3D printer market starts to look at LCD screens seriously.
Photocentric is awarded The Queen's Award for Innovation for our imagepac product. We move into a new 24,000 sqft building in Phoenix, AZ and we design and manufacture Costa 2 in America, the largest automatic stamp processing machine in the world. It is 120 ft long and processes over 70,000 stamps in a single shift. We begin manufacturing custom stencils and ephemera.
We launch our Liquid Crystal 10 3D printer, the world's first daylight hardening 3D printer, at TCT, UK. We are the first company in the world to sell a 3D printer using an LCD screen as its image source. Most experts from the 3D printing industry question the validity of using screens. We have a vision of where it can lead and start to invest heavily in R&D with a total of 13 scientists now working in 3D printing.

2015
We purchase and move into a 35,000 sqft facility in Peterborough. At first, it seems that we have lots of room, but as we begin our journey into 3D printing the space fills up fast! We file our first 3D printing patent on using LCD screens.
2014
Photocentric is awarded a UK Govt Innovate grant to develop a novel type of 3D printer based exposing daylight photopolymer using LCD screens. We use our knowledge created from our first daylight activated stampmaker resins to make it work with LCD screens.

2013
Over 70% of our turnover is now derived from our first patented product, imagepac. We sell imagepac to users to make office stamps and use it ourselves to make millions of crystal-clear stamps. Three years after forming, Photocentric Inc now makes more stamps than Photocentric Ltd.
2012
Craft is now our core market and we become expert in handling custom designs automatically and efficiently. We are now exporting over 70% of our turnover.
2011
We send Costa 1 to Phoenix to fuel their rapid growth in stamp production.
2010
We open Photocentric Inc in Arizona to better supply the largest craft market in the world with domestically manufactured product. We design and manufacture the first automatic inline stamp processing machine, called Costa 1. It processes imagepac sachets on a large rotary cycle, faster and more efficiently than ever before. This automation is unique in liquid polymer processing in the word.

Purchase and move into new 6,000 sqft building in Peterborough. We are now making imagepac and processing stamps automatically in larger quantities. We invent Stampmaker, the lowest cost and fastest stamp making machine ever sold, sales of this highly effective machine have now exceeded 35,000.

Production of stamps hits new record and we become the largest clear stamp manufacturer in Europe, helped by our development of our largest to date exposure unit, imagebox 10.

2007
Start selling our photopolymer to make flexographic printing plates to print on corrugated. File patent on pre-packaged photopolymer for flexographic printing.
2006
We file patent on the digital exposure of daylight activated photopolymer using LCD screens. We make flexographic and lithographic plates using LCD screens. What we learn goes on to become the basis of our daylight photopolymer for 3D printing.

File patent on world's first daylight activated photopolymer. We commercialise the concept as a home stamp making product for craft, imagepac daylight using the light from a desk lamp, combined with a negative printed on a home printer to make a printing plate. It is the first application of daylight cured photopolymer, other than for dental fillings, in the world. Many years later this novel daylight chemistry will be the inspiration behind our 3D printing business. We launch A8 size, now offering imagepac and imagepac xtra sachets in all sizes up to A3.

We are a finalist in the HSBC Start-Up Stars competition. We automate the manufacture of imagepac by designing our first automatic filling and sealing machine. We make a more sophisticated version of imagepac, which we call imagepac xtra. It has an integrated backing sheet (substrate) in the pack. It is harder to manufacture, but soon we learn how to automate the construction of this multi-layered package. Quality and reliability improve as we overcome initial sealing challenges and sales grow both at home and overseas.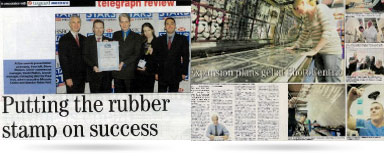 2003
We design our own exposure unit to make stamps using imagepac sachets and call it imagebox 1. It's our first experience with the design and engineering of a machine. We react our first photopolymers.
2002
Photocentric Ltd is formed in the summer of 2002 by Paul Holt in a small room in Peterborough. The idea behind the company is to commercialise a patent on pre-packaging photopolymer resin to make the process of making stamps easier and faster. A few months later the first imagepac packs of photopolymer are made – they are not perfect, but are at least simple to use! It is the world's first pre-packaged photopolymer printing plate. At first, we make imagepac by folding plastic over on itself, sealing the edges, filling it with photopolymer, rolling the air bubbles out with a rolling pin and sealing the top- all by hand. It is a slow process and difficult to maintain quality. We gradually improve it and steadily gain sales with UK business stamp makers, then after exhibiting at Paperworld in Frankfurt, Germany, interest grows quickly from around the world.