Grow your business with us
We have created a highly efficient production process for making very large volumes of aligner models, cost effectively.
The LCD screen is now proven as the most effective mechanism for making large volumes of printed parts.
The LC Magna printer is the largest format LCD printer in the world and is proven technology having printed millions of items. It is used by many of the largest aligner making companies.
Buy from the manufacturer, Photocentric manufactures both the materials and the printers, enabling us to pass on the cost savings to you.
Innovation is our core value
Photocentric has been supplying aligner manufacturers with 3D printers and dental resins since 2016, making hundreds of thousands of models.
The Present
We have inhouse chemists, engineers, software engineers and technicians to advise on every element of the aligner manufacturing process.
We have built and operated one of the largest 3D printing facilities ever made. We have proven printing operations making a million items a month.
We have optimised every element of the process around the aligner.
The future
We have now opened our purpose-built printing facility to house our new printing technology at Titan House, Peterborough. This state of art 66,000 sqft facility has been designed solely to mass manufacture 3D printed parts. The facility hosts our latest autonomous printing processes, bringing to life our vision of a factory of the future to make aligners without labour or inconsistency.
Developing an automated mass-manufacturing process
We work with you to create an optimised automated process that is simple to use, reliable and cost effective, with the capabilities to manufacture 10,000's of aligners a day.
The automated process designed for you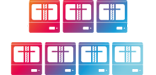 1) We design the ideal number of Magna printers and processing equipment to satisfy your future demand, showing layouts that match your production space

2) We train you how to use the software to auto-allocate models to the platform

3) We train you in how to print reliably, wash and post expose the models
The major cost benefit of Additive Manufacturing is time. Production days lost to waiting for tooling accounts for 1,000's. Costs can be reduced against volume and we can operate on a Pay Per Part costing. We can supply models or aligners direct.
To find out how Photocentric can help your business grow and to receive an information pack please complete the following form