We are manufacturers of a wide variety of high quality photopolymer resins for office stamps. We also provide a range of ancillaries for stamp making.
i50
Excellent general purpose grade for narrow web printing and stamp manufacture. It provides excellent print quality with minimal dot gain. It provides good ink transference on paper and card substrates.
i55
High definition grade for demanding stamp applications and label printing. It is faster curing and provides you with greater pouring control with a slightly higher viscosity. It has good ink transference on paper and card substrates.
i90
Ultra hard moulding photopolymer delivering 90 on the A scale and 50 on the D scale. It is rigid, inflexible and very, very hard. i90 is ideal for nameplates for cemeteries.
Download i50 Technical Data Sheet
Download i55 Technical Data Sheet
Download i90 Technical Data Sheet
Packing Options
1kg bottle
The nozzle has a non-drip pourer with a slot allowing over-poured resin to fill back into the bottle.
2kg bottle
Standard black bottle.
5kg jerry can
Standard black plastic jerry can
18kg plastic anti-glug jerry can
This is a clever plastic pail with an anti-glug pouring spout that allows air to be released when you pour quickly stopping erratic pouring. It is very tough and has four stacking points on the base and top to enable them to be safely stacked on pallets.
18kg round metal pail
This is a very tough re-usable metal pail that is easy to pour the contents out very quickly. Metal lid has a retaining clip to ensure it doesn't come loose in transit.
200kg drum
UN approved standard open-topped drum with retaining clip.
1000kg IBC
UN approved black (UV-proof) plastic in metal cage.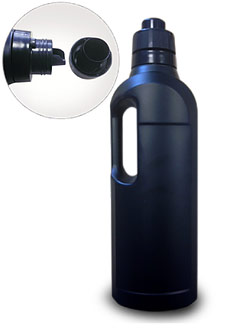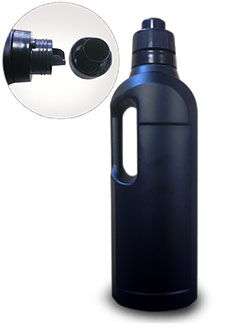 Products specially developed to give the best results when used with our liquid photopolymer resin.

Adhesive Base Film
125my coated substrate in microporous adhesive backed format. Optimized to achieve durable and fast adhesion onto our polymer while offering a self adhesive back for easy mounting.

Base Film
125my coated substrate in sheets or roll. Optimized to achieve durable and fast adhesion onto our polymer.

Cover Film
25my high resolution transparent film for stampmaking. Available in rolls and several standard sizes.

imageblack film
A4 size Inkjet or Laser film optimized to provide a DMax of 3.0 printed from your desktop printer.

W5 Washout Liquid
Anionic surfactant specially formulated to emulsify our photopolymer in the shortest period of time and with the best possible results.

P1 Post Exposure Salt
Special formulation salt or liquid added to PX water to speed up drying and provide a tack-free finish.

A1 Antifoam
Defoamer to control or eliminate unwanted foam generated in the plate washing process.
Download Technical Data Sheet