How 3D printing has enabled collectable manufacturer Orzol Studio to offer high-detail replicas of their figurine battle designs in volume.
Founded and based in Poland are Orzol Studio – a model wargame and collectable figurine manufacturer, offering collections of intricate and highly detailed models in scale 28mm for the captivated gaming community. With the influence of figurine models from old game books, Orzol bring their own interpretations to life by hand sculpting each model.
With a number of exciting projects in the pipeline, Orzol are currently exploring producing a line of products inspired by Lord of the Rings author, J.R.R Tolkien as well as collaborating with other tabletop wargaming companies such as playmats.eu. Orzol are also working on a range of historical models to further delight their customers; they aim to scale up their work by planning to offer 75mm models for the future.
Faced with challenges, Orzol made the decision to implement the advanced technology of 3D printing into their workflow. Pushing traditional methods aside Orzol Studio now create their miniature and collectable figurines by 3D printing their designs in Photocentric photopolymer resin which are then used for high pressure moulding.
"We chose Photocentric's Precision printer because we found it is the best price vs quality. We sent out benchmark stl file models to a number of different 3D printing companies and none of the samples were as detailed and precise as the ones from Photocentric – the LC Precision samples were by far the best. The print level possibility with Precision is the highest possible I have ever seen"
– Robert Orzol, founder of Orzol Studio
Limitation in high detail
Manually sculpting 28mm scale models meant Orzol Studio were faced with the inability to sculpt their design precisely, preventing them from capturing the required detail. That extra depth and detail is essential for them to replicate their designs in their truest form making the customer experience as smooth and enjoyable as possible.
Long and extensive manual production
Manual hand production of models meant individual models and if any mistakes were made the process had to be started all over again, from the beginning. Once ready, the models would be used in silicone moulds for mass production, this process once took several days.
3D printing with LC Precision desktop printer
After researching the best option for their intricate designs, Orzol turned to the advanced technology of 3D printing to solve their challenges of long and difficult hours of manual labour and detail limitations of hand sculpting.
Named Best Personal Desktop Printer of the Year at the 2019 3D Printing Industry Awards, our affordable, high-resolution LCD printer LC Precision 1.5, with its optimized range of resins for miniature modelling and figurine work, is the ideal, affordable choice for manufacturers and designers in this industry.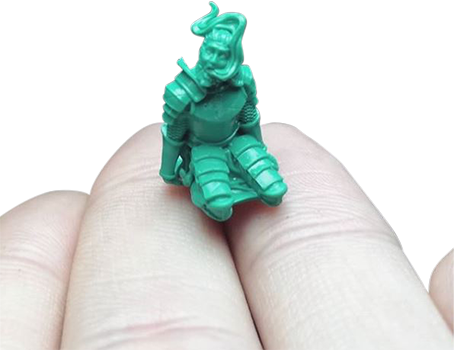 LC Precision 1.5 is no longer on sale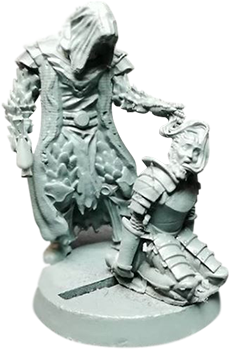 Results of integrating LC Precision into Orzol's workflow

Production process improved by 300%
Original designs now replicated in the highest detail

Improved customer satisfaction
Ready to be pressed into silicone molds, figurines can now be produced individually or in batches through the quick process of 3D printing. Models which originally took days to sculpture now only take a matter of hours.
The high-resolution 3D printing of LC Precision teamed with optimized modelling resins allows those precise and fine details to be captured in every print model, despite it being at such a small scale of 28mm.
Introducing the advanced tool of 3D printing into their workflow allows Orzol to offer higher quality products than before. This improvement has led to increased customer experience and satisfaction.
manufacture highly-detailed copies to sell onto their customers.
"We expected the LC Precision printer to be expensive due to its print finish being the best level of detail we have seen, but the printer and its compatible Daylight resins are affordable. We are always exploring with Photocentric's growing range of resins, but at the moment we are glued to printing in Daylight Concept Green – this is the best choice for our figurines."