LI Racing Respirator Masks
LI Racing Transform Their Business into Manufacturing M1 Respirator Masks for First Responders.
Brentwood, New York is home to Long Island Racing, an automotive manufacturer specializing in sport bike parts. At the start of this year they couldn't have imagined the new direction the business would take. Fabricating velocity stacks for sport bikes was their primary focus for 2020, and, in January the LI Racing team acquired their first 3D printer – the LC Magna, one of the largest LCD 3D printers in the world. LC Magna's affordable package, large build volume and 4K LCD screen deliver accuracy unachievable with other large format (SLA) print solutions, determining their choice.
Then the world changed overnight. Amid the spread of COVID-19 New York like many other cities experienced the sudden and devastating effects of the global pandemic. Hospitals and public services suffered severe shortages of PPE required to keep their staff safe.
With an advanced 3D printer at their immediate disposal, LI Racing swiftly adapted their business with impressive speed and innovative thinking to help manufacture protective wear for the local community.  Today, the LI Racing M1 mask is providing thousands of first responders with the protective wear they need to stay safe during COVID-19.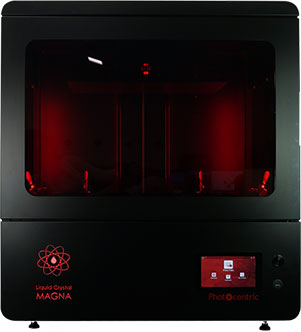 The Next Steps – M1 Respirator Available to Public.
The LI team created an entire workflow to allow them to produce at least 150 masks a day.
"This was a huge accomplishment due to all the hard work of prototype testing and development that went into the mask. Having an LC Magna 3D printer in-house that can deliver fast results has been fundamental to our efforts – it wouldn't be possible without this responsive technology."
The LI Team racing have now made their M1 reusable respirator available to the public, shipping complete packages containing everything required from straps, high flow adaptor and filter bag. The new goal for LI Racing is to deliver up to 1,200 reusable respirators a week to help keep the public, as well as first responders safe, something which would not have been possible without 3D printing.