Bridge Dental Laboratory were experiencing a rapid growth in demand for their clear dental aligners. Bridge had already digitalized their manufacturing process but were experiencing a high level of errors and rejects. In late 2019 they purchased their first Liquid Crystal Magna and made the transition to the repeatable mass manufacture of dental models. They never looked back!
For Bridge Dental accuracy, repeatability and reliability were the vital requirements and LC Magna provided the ideal solution.
Using it Bridge convert patient scans into ready to use customized aligners in a single day.
Digital vs Physical Impressions
Making the switch from physical to digital impressions allows dental establishments to streamline and improve their workflow. Patient data is taken with intraoral scanners, the lab receives the file digitally, prepares it and prints the patient models ready for thermoforming. No more labor-intensive impression molding and error. Patient history can be stored and accessed digitally. Handling time, labor error and operational maintenance are all reduced significantly, and profits increased.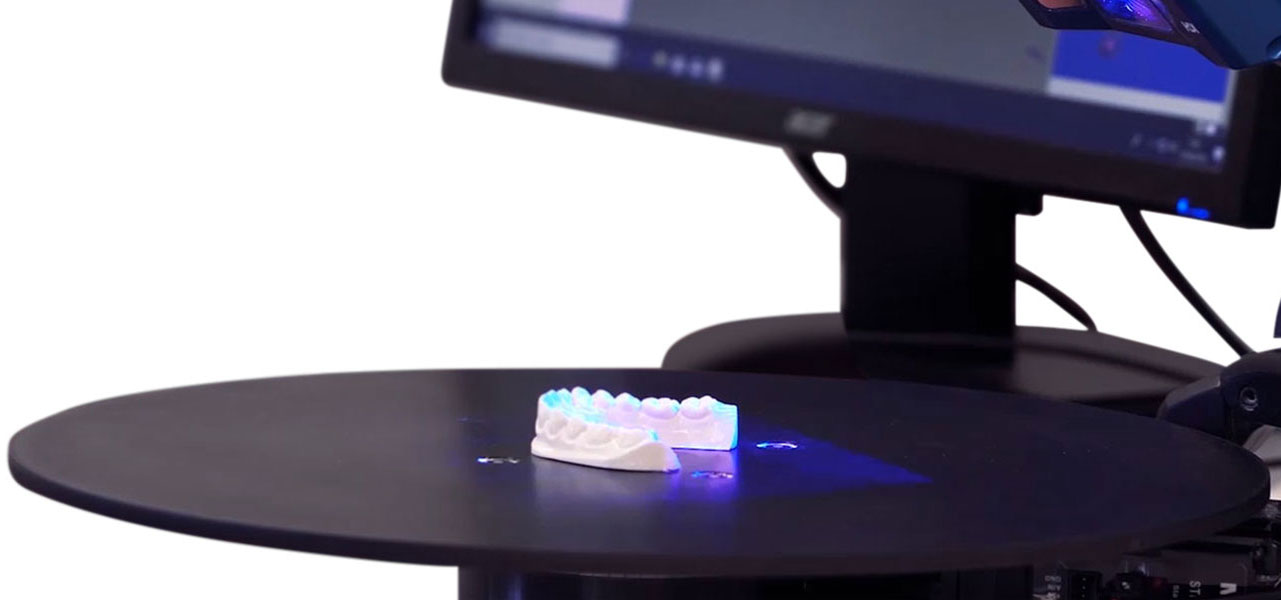 Liquid Crystal Magna – 48 Models in just over an hour
Bridge Dental already had a number of different 3D printers integrated into their workflow, but they needed to reduce waste and increase capacity at the same time. They identified the need for a larger build volume to be able to print a single case history at one go. It was essential that they could have both high throughput and high reliability. The large build volume of LC Magna combined with its ability to create highly detailed parts offered the ideal solution.
Founder of Bridge Dental Laboratory Daryl Wheeler said: "Before integrating LC Magna into our workflow, we were using two Form2 3D printers to produce 40 models a day. In a single print run on Magna we can print up to 48 models in little over an hour – this has transformed our day to day operation. Handling time and operations involved have reduced by at least 50%"


Reduced operations and handling time
The Benefits of LC Magna for Bridge Dental's Aligner Manufacture Operation

In a little over an hour Bridge Dental have a full bed of precise patient models. Their previous 3D printers were unable to deliver the combination of speed and accuracy necessary to deliver an entire customer case in a day.

Large build volume, less operation time
Printing up to 48 models at a time removes the need to prepare multiple files, operate numerous printers and post-print procedures. The LC Magna system reduces handling and operation time. Bridge Dental can now increase their aligner volumes and reduce their service times.

Inexpensive materials reduce the cost of the dental models. Every element of the LC Magna package is competitively priced. The printer comes with a lifetime license for Photocentric Studio software, ancillaries and 5kg of resin – everything required to get you started.
"Having an LC Magna has given us peace of mind. Its professional reliable performance, large build plate size and fast printing allow us to turnaround a customer case in a day. In addition to this, Magna prepares us for the future. If demand continues to increase, we know we have the dependable workhorse at our disposal to deliver in volume to meet that demand."
Founder, Daryl Wheeler