Thank You to our 3D Printing Community. Liquid Crystal Magna – A Global Effort.
It has been amazing to see our global network's response to the outbreak of COVID-19. Using unique and disruptive LCD technology, they have demonstrated one of the real benefits of immediate product development and manufacture when supply chains are down.
Addressing the acute shortages of PPE, LC Magna printers sitting in dental labs, workshops, R&D centres and offices worldwide were immediately turned over to produce the critical equipment in need; rapidly manufacturing parts at scale.
We would like to say thank you to our community for their tremendous contribution and highlight their response work to the global pandemic of COVID-19, to help keep frontline workers and communities safe.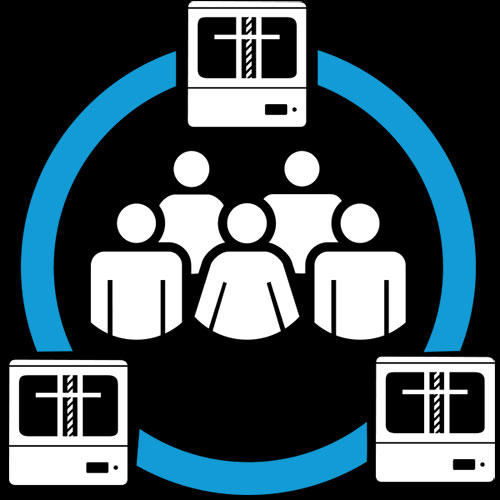 Bridge Dental Laboratory – Swapping Dental Models for Protective Face Shields.
"Our Magna printer is usually the work horse for rapidly 3D printing patient dental moulds for thermoforming aligners. With a large and reliable machine at our disposal we decided to help those in need by producing Photocentric shields ourselves. We offer these shields to anyone who needs them to work safely when things return." Daryl Wheeler, Director of Bridge Dental Laboratory"

Long Island Racing – Manufacturing M1 Resporator Masks for First Responders
The automotive part specialists based in New York swiftly adapted their business with impressive speed and innovative thinking to help manufacture protective wear for the local community. Matt Mendez, Founder of LI Racing said:
"We reacted immediately to the critical need for PPE and have now created an entire workflow which allows us to produce at least 150 masks a day. Having an LC Magna 3D printer in-house that can deliver fast results has been fundamental to our efforts – it wouldn't be possible without this responsive technology."

Xkelet – Protecting the NHS with the 3D Printed XkMask
Changing the way bone fractures are treated in the world is Xkelet. Their army of Magna printers usually power the rapid production of 3D printed cast solutions; each brace custom-made for every individual patient. Reacting quickly to the virus outbreak, founder Jordi Tura Cede said:
"Helping people is our goal and what our business is built on. We designed and developed the XkMask in a matter of days to help keep the NHS staff safe during the pandemic of COVID-19. Usually used to manufacture prosthetics, our Magna printer has been used to rapidly 3D print these masks in volume."

AMRC – 3D Printing Thousands of Face Shields a Week for Local Hospitals.
Mark Cocking, Technical Lead for Polymer Additive Manufacturing who led the AMRC's response, said the Photocentric Magna platform coupled with their advanced resin technology was central to producing thousands of face shield frames.
"The AMRC's fast response was down to Photocentric's software, advanced resin technologies, and robust architecture of the LC Magna to provide repeatable results. The LC Magna system performed flawlessly running production quantities 24/7. Importantly, Photocentric customer support is fast and efficient ensuring optimum component output and delivery of consumables at a challenging time."

3D Next Level – Reducing Virus Contamination with Unique Tools
The creative team at 3D Next Level based in Netherlands, usually operate their Magna printer to fabricate objects such as scale models, advertisement displays and art sculptures. Since the virus outbreak, they have been a manufacture of protective face shields and unique functional parts.
Lennart Van Den Doel, Founder of 3D Next Level said: "In addition to 3D printing face shields for those in need, we are also using our LC Magna large-format printer to manufacture parts which minimize the chance of contamination. Door handle attachments are something we are producing in volume – such parts allow users to avoid opening doors with their hands reducing the risk of spread."

3DGBIRE – Immediate In-House Production of PPE for NHS.
Reacting immediately to the supply chain issues, UK partner 3DGBIRE turned their R&D centre into a small 3D printing production farm. Capable of rapidly producing parts in numbers, their Magna 3D printers were used to manufacture the essential PPE for their local health care networks.
Daniel Abram, General Manager of 3DGBIRE said: "By 3D printing PPE face shield parts using our Photocentric LC Magna 3D printers, we have been able to reduce the design-to-manufacture timeframes of specific PPE components and bring fast production in-house to support our local NHS."

Photocentric Inc, 3D USA – 3D Printing Ear Straps and Face Shields in their Thousands
Our Photocentric team in Phoenix, Arizona have been in full swing to help their frontline workers. Mirroring that of our UK office, Photocentric Inc quickly transformed their line of Magna printers into a production line. They are now mass manufacturing protective face shields and other components, such as ear straps. Paul Anfinson, Chief Executive Officer of 3D USA shares more on their response:
"The effects of COVID-19 throughout the US have been devastating. We first and foremost wanted to do what we can to support our front-line workers.
Within a matter of days our Photocentric Inc office in Phoenix, Arizona was producing face shields in their thousands, using our large-format Magna 3D printers and dedicated workforce of employees eager to help.
We are proud to be demonstrating the responsive capabilities of additive manufacturing in a time of urgency with our unique LCD technology."
Would you like to share your story? If you're a Photocentric partner or customer with a story to share please contact marketing@photocentric.co.uk.