Artwork sizes & templates
Below is a list of all the artwork sizes we offer. When designing your artwork please ensure it fits into the below artwork size. You can place your images edge to edge on the page. The finished size is the size your stamps will be cut down to, from the 8 x 12″ sheet.
Your artwork needs to meet the following specifications.


File Format
Black & White

Line Thickness
Minimum 7 pixels (7 pt) at 635dpi

Separation
0.25″ between images
Please ensure when sending artwork in PSD, Ai or CDR file format that the files are flattened and there are no layers. If you are using a paid font please esnure to embed this into the document. Alternatively you can supply the font file or export the file to a PDF.

Submitting stamp artwork from a hand drawn image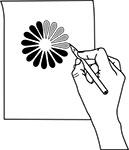 If you have hand drawn your designs then you need to ensure the lines are dark enough so they can be picked up on the scanner. To do this go over your lines with a fine liner or black pen. (If the lines are too light the scanner won't pick up the detail and parts of the image can become lost)

Scan your image. It is recommended to scan at 300dpi as a PDF. Ensure the scanner is free from dust before scanning in your design.

On sending in your scanned design please specify the size the stamp should be to ensure it has been converted correctly.

Please send all artwork to graphics@photocentricusa.com.
Ensure the artwork is sent as an attachment and not embedded into the body of the email as this causes the resolution to be lost. Your artwork always remains your property and we are dedicated to ensuring your designs remain secure.

If your artwork exceeds the mail size limit then send us a data transfer link. Simply upload your artwork to dropbox, wetransfer or another file sharing service and send the link to graphics@photocentricusa.com.

When sending in your artwork please supply a separation guide as the one below which highlights the individual stamps on the set so we can create the mask correctly.
Once you have submitted your artwork please allow up to 48 hours while your artwork is being processed before receiving your negative for approval.
Once you artwork has been made by our dedicated artwork team you will receive a proof to approve. The white area shows the mask which separates the stamps and gives the stamps it's structure.
Please note we cannot proceed with your order until you have sent us written confirmation on email that the artwork is approved. Delays in approving artwork may result in delays to production.
If at any point you wish to make changes to your designs these must be sent in writing via email to our Artwork Team. Please make it clear what changes are to be made to prevent delay or changes being processed incorrectly. Changes to designs should be submitted by sending the old incorrect file, circling what has changed and then sending new corrected files clearly marked.
The artwork department will then amend your files and send you a new negative to approve of the amended design. One approved the old file on our system will be deleted.
Please note there will be a charge for any changes made to artwork that has already been approved. This fee will also be charged for any work our artwork team has to complete to bring your artwork up to specification (i.e. thickening lines, moving images, etc).
Helping you to understand us
Below is a guide to our terminology we use when working with your designs to help you understand each stage of the artwork process.

Artwork is the term we use for your design files. Artwork files are needed for both stamps and inserts.

Acetate is the clear plastic film which protects the stamps front and back. Acetate sheets can be kept and reused for storage, as the stamps can easily be peeled off and on again.

A negative is what we make instead of creating a mould. It is made up of black and clear areas in your design – the UV light shines through the clear parts and forms your stamp.

The mask is similar to the negative, and again is made up of black and clear areas. The mask creates the outlines for the stamps, and means that each stamp is produced individually, so they don't need to be cut.
Below is a list of the insert sizes to accommodate your stamp design. Please ensure to add 3mm bleed on each side of the insert. Refer to the Insert examples for more details if needed.
Your insert files need to meet the following specifications
We accept the below color modes for inserts.





Please ensure when sending artwork in PSD, Ai or CDR file format that the files are flattened and there are no layers. If you are using a paid font please ensure to embed this into the document. Alternatively you can supply the font file or export the file to a PDF.


Please send all inserts to graphics@photocentricusa.com
Ensure the insert artwork is sent as an attachment and not embedded into the body of the email as this causes the resolution to be lost.

If your insert artwork exceeds the mail size limit then send us a data transfer link. Simply upload your insert artwork to dropbox, wetranfer or another file sharing service and send the link to graphics@photocentricusa.com

When sending in your inserts please ensure it is clear which insert is for which design. If you can include a guide this will help ensure the correct inserts are printed with the correct designs.
Helping you to understand us
Below is a guide to our terminology we use when working with your designs to help you understand each stage of the artwork process.

This is the printed backing card which can be packed in with your stamps. Inserts are printed on 220gsm matt paper.

This is an additional 1/8″ area around all sides of the insert file. This should just be colour or the pattern extended to allow for slight variation when cutting so that the cut is up to the edge of the sheet. Do not include any text in this area.

All our stamps are packed into crystal clear self-seal bags, which are ideal for protecting and displaying your stamp sets. They even come with a hanging slot at the top for hanging display in stores.
How to apply ink to the stamps
Press the ink pad lightly and evenly to the entire surface of the stamp. Ensure you don't over-ink or fine detail will be filled in.
Which material can you mount your stamps to?
The acrylic blocks we supply are ideal for mounting stamps as they are clear and flat. You can use any surface that is dust-free, doesn't bend and is flat.
Which materials can you use to stamp onto?
Our stamps can be used on many materials including; card, paper, fabric, walls, MDF/wood and any other smooth/flat surface where you can apply ink or paint. They can also be used to create impressions or textures on precious metal and polymer clays.
Care tips for your clear stamps
Store your stamps back on the printed acetate that it was supplied with. Keep them out of sunlight in a dry place.
How to clean your stamps after use
Clean your stamps in washing up liquid and water. You can use solvent cleaners, but some can attack plastics. If you want to use a stamp cleaning solvent to remove permanent ink staining use it quickly and do not leave your stamp standing in the solvent. You can prevent most inks from staining stamps by using either a clear watermark ink or Versafine clear ink on the stamp first to protect it.
If the stamp has lost is stickiness how to attach to a block for stamping
If cared for correctly your stamp will stay sticky for life. If it loses stickiness it should return if the back is washed in soap and water. Leaving it in sunlight can reduce the stickiness of the back. In which case you can sand the back.
Pigment inks work well for heat embossing with powder and heat gun as they stay wet longer than dye inks and they give crisp, clean images. We recommend Versafine as the number one ink to use with our stamps. It is a quick drying oil-based pigment ink. It is archival and resists water so you can use it with watercolors. It cleans with water and will not stain your stamps. If you are going to use your stamps with coloured, clear or white inks you will need to get them clean or the ink will transfer. If you are stamping on a slick surface like shrink plastic-stamp, first on a piece of scratch paper then the stamps won't slip as easily.
Solvent inks are great for permanent strong inking, we recommend Staz-on. They impart very minor damage to the photopolymer. The solvent cleaners will eventually damage the polymer. Do not use Staz-on if you are going to colour with Copic markers as it will damage them.
Recommendations for using solvent based inks with clear stamps;
1. Use solvent based cleaners sparingly. Solvent based cleaners are more damaging to the stamp than the ink you are removing. So if you can use cleaners, do so sparingly.
2. Create a pigment barrier between the polymer and ink by applying a water based ink before applying your solvent ink. This will prevent the solvents from coming into direct contact with the polymer.
3. Wash ink off immediately with soapy water.
Dye inks are quick drying inks that are water based and dry almost instantly, such as Memento ink from Tsukineko and Archival ink from Ranger. They will stain photopolymer stamps. If you are just using black or darker inks then it doesn't matter and it will be difficult to tell if the stamps are clean. You can prevent most inks from staining by using either a clear watermark ink or Versafine under ink. The Distress inks from Ranger are also dye inks they have different properties to regular dye inks and give a mottled, distressed look not crisp, clean solid images.
Chalk inks are pigment type inks but they have a flat matte finish like chalk pastels and they are archival.
Hybrid inks from companies like Stewart Superior offer the best of both dye and pigment inks and are well worth trying. However they will stain polymer stamps.
Watermark inks such as Versamark work excellently, particularly for embossing. You can get some great results stamping with a watermark ink and letting it dry and then applying chalks over the image it-you can make images any color or a tone of the background paper.
There are also specialty fabric inks available that are permanent and will not wash out if you heat set them. They do dry out fairly quickly and you need to re-ink them regularly. They do a great job but the colors are limited.
You can use acrylic paint on your photopolymer stamps, just make sure you clean it off right away. It works best on the more bold and chunky types of stamps as it tends to fill in the very fine detail and give you blobs of paint. There is a fabric medium you can purchase to mix with the paint to create your own fabric paints.
Below is a guide to our terminology we use when processing your orders, to help you understand each stage of the despatch process.
Lead Time
The lead time on your order with Photocentric starts when we have all information required to complete your order (all artwork approvals, all quantities, all shipping info, etc.) Delay in receipt of any of this info can result in production delays. We will send most artwork within 48 hours back for approval, after receipt. Our normal turnaround time is between 10-12 business days + transit time. Please also note that complex orders may increase turnaround. Delay in your approval of artwork could also result in production delays.
Business days do not include bank holidays.
Requested Dates:  Photocentric will do everything we can to meet any requested dates, but we cannot guarantee it.
Changes to your order
Changes to your order after submission constitutes as a new replacement order which could result in restarting the lead time cycle.
If we can adjust without affecting the original estimated ready date, we will. It is very important to not place your order until you are certain of the designs and quantities that you want. Once the process begins, everyone in our facility starts to work on different aspects of the job. Changes are costly and time consuming.
Shipping
Standard freight charges for most orders include United Parcel Service ground service to the continental United States. Buyers who live outside the continental U.S. must request either UPS or DHL as their carrier. Buyers who wish to supply their own shipping account number may do so, but must call or email the details.  Buyers who request expedited shipping via UPS may choose to do so at actual freight rates specific for those services. Buyers who request shipment via Parcel Post do so at their own risk, due to past experiences we prefer not to use USPS. Parcel Post shipments are less reliable, sometimes unable to be tracked and carry no guarantee by USPS of deliverability.
Shipping Claims
Claims for shipping adjustments, breakage or delays in transit must be filed with the carrier within 15 days. For UPS shipments, buyers must contact their local UPS office at place of delivery for damage inspection prior to notifying Photocentric Inc.  Photocentric Inc. will then process claims after the on-site inspection has been completed.
Over-Runs and Under-Runs
In the manufacturing process we try to avoid waste as much as possible, therefore it is common to have overruns and underruns to maximize efficiencies. An overrun amounts to the additional products that are produced compared to the quantity ordered. Conversely, an underrun is the number of products printed short of what was ordered. This process is also referred to as "shortages" or "overages."  Please allow for a +/-3% variance on orders.
Claims & Remakes
We go to great lengths to ensure that every order leaving our facility is correct. Our business philosophy is that all our customers are valued customers, regardless of size. Any order manufactured differently than the approved artwork will be remade or credited to your account for the defective product.
Submit claims to customerservice@photocentricusa.com, all claims must be submitted within 90 days from delivery date. If Photocentric Inc. is responsible for any errors in your order, we will gladly accept responsibility for the issues and will remake or credit your account.
Payment Terms
Buyer must pay by credit card or PayPal upon order completion, unless prior credit arrangements have been made. All invoices are emailed to the buyer at the time the order is ready. Unless 30 day terms are set, all accounts are set up on 'due before shipped' terms.  Delays in shipping may occur if payment is not received in a timely manner. Credit application available upon request.
Confidentiality
All designs submitted to Photocentric are treated as confidential and will never be transmitted to anyone not involved in the manufacturing process.
Trademark Use
All copy or other materials which are submitted to Photocentric by the buyer and used in producing items ordered, will be accepted by Photocentric as being submitted in full compliance with applicable laws regarding trademark, service mark, copyright, right of privacy, patent or similar protection. The buyer hereby agrees to hold Photocentric and its parent organizations harmless from any liability that may result from Photocentric's use of artwork submitted by the buyer.