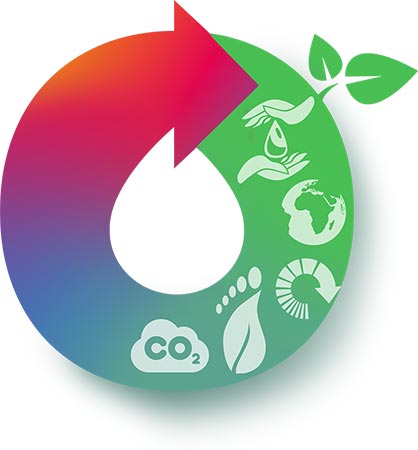 Sustainability and beyond
Photocentric has a strong environmental agenda, with the business engaged in numerous projects evaluating sustainable and renewable materials. We are undertaking significant development work on the use of sustainable and biodegradable resins, as we look to develop a range of sustainable resins for 3D printing. These resins will avoid the use of traditional petrochemicals, instead favouring the use of bio renewable raw materials such as making usable plastics from waste lemons. This allows us to significantly lessen the environmental impact of our products without compromising the material properties and resulting parts. As a result of a recent Innovate UK project we developed a sustainable 3D printing material, 56% of the resin came from renewable sources.

We are constructing a brand new net zero research and innovation facility where we will continue our work into developing more sustainable materials and the efficient 3D printers of the future.

We are using the most energy efficient processes to manufacture products and materials and continue to review and improve our energy use.

We aim to source all our materials locally to create a leaner supply chain and reduce our carbon footprint.

We remain committed to delivering against the green agenda and vision we have set out for our development in our HQ in the UK and in our other developments around the world.

Improving Recycling Rates
We are currently evaluating methods to improve the recycling rates of 3D end-use parts by incorporating them into new resins.

We utilise technology that saves water during the production process of all our materials. Our unique process sees a reduction in material consumption, tooling, and harmful chemicals that are used in other machining processes.

We are undertaking research into sustainable materials in conjunction with a number of global universities and research institutions.

Additive manufacturing (AM) is far more efficient than comparable reductive manufacturing processes and we are working to further improve these processes.

Our systems support fast on-demand production which helps to minimise waste and over-stocking.

Energy Efficient Materials
We are working with The National Centre for Additive Manufacturing (NCAM) on projects to evaluate the use of brand-new ceramic materials which can be developed into higher efficiency turbine blades and other automotive components.

We are undertaking significant development work on the use of sustainable and biodegradable materials.

New Generation of Batteries
We are committed to the development of a new generation of battery technologies, that will be lighter, smaller, faster charging and more powerful.