Photocentric appoint Bilby 3D as Australian Partner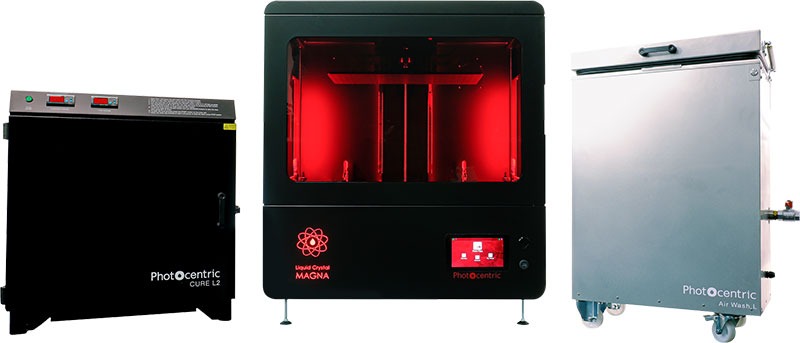 Photocentric, the UK based inventors of 3D LCD printing, have appointed Bilby 3D as their Australian Partner. Bilby 3D, with showrooms in Sydney, Brisbane, Melbourne, and a soon-to-be opened facility in Perth, will offer the full Photocentric product line-up as well as Photocentric's range of high-performance resins.
Josh Riddick, Sales Manager at Photocentric stated, 'we are delighted to be working with Chris, Leeand the rest of the team at Bilby 3D. Their vast experience and knowledge of 3D printing made them the obvious choice as we look to continue to build our presence in Australia. We are especially excited to have the opportunity to work with the team to showcase our versatile LC Magna which is already delivering speed, volume and cost savings to businesses around the world.'
Chris Bilby, CEO of Bilby3D said: 'In the current environment, fast prototyping and flexible manufacturing have come to the fore. Whether on-shoring or bringing capabilities in-house, we know manufacturers will appreciate the size and throughput that the Photocentric solutions bring. We look forward to expanding our expertise built up over the last 10 years, and working with the UK team to provide a high level of support and service to Australian customers.'
The Photocentric LC Magna delivers the ideal combination of large build volume and accurate printing, making it the right tool for custom mass manufacture. The build volume of LC Magna is 510mm x 280mm x 350mm, making it the largest build volume LCD screen-based 3D printer currently available. LC Magna has a 23.8" 4K Ultra HD screen, offering unbeatable precision and detail when creating high resolution mass manufactured parts.
Sally Tipping, Sales Director at Photocentric said, 'LCD screen-based 3D printers have been the fastest growing area in 3D resin printing; this machine sets new standards, making it best in class in almost every respect – it really is a disruptive industry-changing machine.'
Dental technicians, product designers, engineers and manufacturers alike can now benefit from LC Magna's large build volume capabilities and maximise build plate capacity to increase throughput, speed up assembly production and reduce lead times.
Application versatility – From large component prototyping to mass orthodontic model production
Delivering consistent accuracy across a massive build plate with 100% of models' tolerance at less than 100 μm and an average accuracy of within 50 μm. LC Magna can be used for batch producing small parts such as 3D printer components, orthodontic aligners, or detailed game figurines, or for scaling up to large prototype parts such as an automotive suspension or bike stands. The advanced technology of LC Magna accommodates the evolving need of 3D printing in businesses looking to turn their digital images into physical parts more and more rapidly.