British 3D printing specialists Photocentric to mass manufacture millions of PPE parts for NHS healthcare.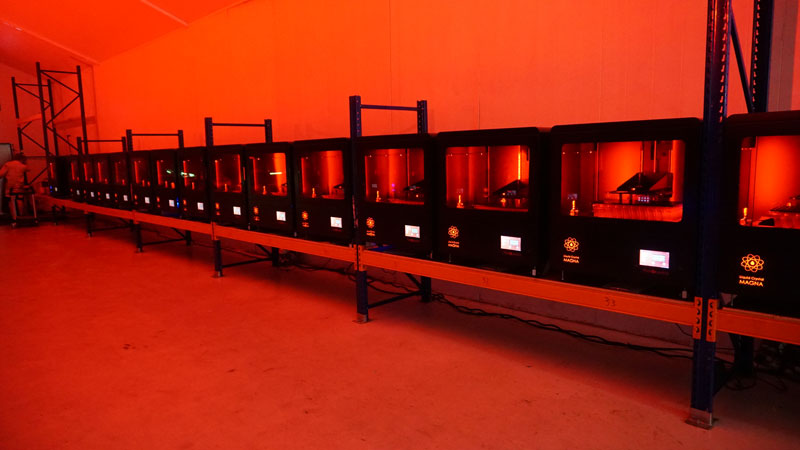 UK manufacturer and three times Queen's Awards winner Photocentric announce Government deal to support frontline health and care staff with over 7.6 million 3D printed protective face shields. Photocentric is using its patented 3D printing technology to deliver millions of items of PPE every month for frontline workers, with plans to scale up to making 500,000 parts a day if required. The contract saw the first delivery of shields to the national PPE distribution centre on Saturday 30th May, and they are already being used to protect frontline workers.
Photocentric's Peterborough-based warehouse has been transformed into a streamlined productions process, where a print farm of over 30 new large-format printers operate 24/7. Photocentric plan to bolster their current army of printers to over 100 in the coming months. The whole company has moved to a war footing and mobilised to deliver the vital quantities, with at least 60 new staff members recruited.
Paul Holt, Managing Director and Founder of Photocentric, said:
"I am proud of the ingenuity and hard work demonstrated by the whole team at Photocentric. We have shown that it is possible to use our patented 3D printing technology to very rapidly design and make millions of units of an entirely new product.
"This home-grown, patented technology demonstrates that the UK can reduce dependence on overseas production and manufacture parts locally, making the quantity needed, when they are needed, at a competitive price."
Photocentric's journey into face shield manufacture
Photocentric began the manufacture of protective shields in March 2020 after receiving a large and immediate demand from hospitals both locally and further afield. Having invented a form of 3D printing that could rapidly create plastic objects in scale, they had the ability to react immediately. A shield was designed and prototyped in a day, and their fleet of large-format printers were turned over to manufacture thousands
of shield parts daily.
Producing face shields has enabled Photocentric to demonstrate that it is possible to use their technology to rapidly manufacture very high volumes of plastic parts at a price that competes with traditional manufacturing processes. It is no longer reserved for slow, expensive prototyping applications but can produce hundreds of thousands of parts per day.